Sister Responds to Call to Share Her Voice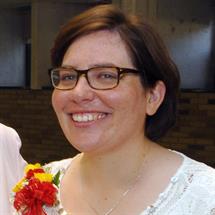 An intriguing premise and a chance to share her experiences led Sr. Eilis McCulloh to join a global panel of sisters participating in a new monthly series from Global Sisters Report. Global Sisters Report is an independent news publication whose mission is to "report on and give voice to women religious around the world."
The Life, which features short reflections around a specific topic from members of the panel, launched recently on the Global Sisters Report website.
Sr. Eilis had heard about the opportunity through Giving Voice, a peer led organization for younger women religious to which she belongs.
"I was intrigued by the description and the opportunity to join with other religious from around the world," Sr. Eilis said. "I strongly believe that it is important for younger religious (who are members of Giving Voice) to share our own unique experiences of religious life with our communities and with the world at large."
Click on either of the links below to learn more about this new series: the first link explains the purpose of the series and introduces the panelists, and the second link is where you can access all the stories in the series as they become available.
http://globalsistersreport.org/blog/gsr-today/introducing-life-panel-sisters-and-new-gsr-feature-47551