In Memoriam-Sister Julie Demchak
Sister Julie Demchak, H.M., formerly Sr. Pauletta, died Tuesday, March 17, 2020 at Villa Maria Community Center.
Date of Birth: February 7, 1931 │ Age: 89
Place of Birth: Canton, Ohio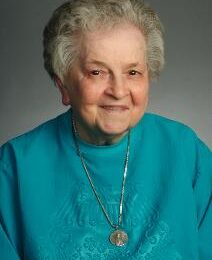 Sister Julie Demchak faithfully dedicated herself for 45 years in the ministry of education in the Cleveland, Pittsburgh and Youngstown dioceses.
In the Cleveland diocese she taught at St. Raphael, Bay Village; St. Philip Neri, Cleveland; and St. Mary, Painesville and was principal at Ss. Philip & James, Cleveland; St. Richard, North Olmsted; and St. Albert the Great, North Royalton.
In the Youngstown diocese she taught at St. Barbara, Massillon, and St. Edward, Youngstown and was a teacher and then principal at St. Joseph, Ashtabula. She served for many years as an outreach volunteer in various Stark County locations.
Sr. Julie taught at Our Lady of Grace, Pittsburgh and was a pastoral care volunteer with the sisters in Visitation Hall at Villa Maria for several years prior to taking up residency at Villa Maria Community Center. She shared in the Ministry of Prayer and Ministry of faith-filled presence until her death. Sr. Julie was celebrating her 70th jubilee this year.
Sr. Julie was a kind and loving sister of the Humility of Mary whose life readily suggests that these hard times offer the opportunity to extend love and compassion to others. While we stay home and practice social distancing, we can phone a friend or family member to offer words of love and compassion and even a virtual hug; or check on senior citizens especially those who live alone; or drop off a meal for someone.
Let us also join in prayer asking God's loving kindness for the needs of the world. "The Lord is kind and merciful." Psalm 103.

Due to the current situation regarding gatherings in church, her burial has taken place in the Sisters' Cemetery at Villa Maria. A Memorial Mass will be celebrated at a later date.
She is survived by her sisters in the HM Community and several nieces and nephews and their families.
She was preceded in death by her parents, Stephen and Theresa (Buro) Demchak; her brothers, Michael Demchak and John Paul "Joner" Demchak; and her sisters, Jo Luther, Anne Marie Demchak, and Mary Schumacher.
Memorial contributions may be sent to
Sisters of the Humility of Mary
Development Office
PO Box 534
Villa Maria PA 16155