In Memoriam-Sister Jeannette Abi-Nader
Sister Jeannette Abi-Nader, H.M., formerly Sr. de Sales, died Tuesday, October 27, 2020 at Villa Maria Community Center.
Date of Birth: January 9, 1933 │ Age: 87
Place of Birth: Abdelly, Boutroun, Rep. of Lebanon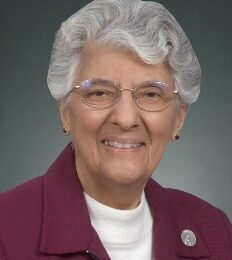 Sister Jeannette Abi-Nader earned her BA from Seton Hill College, Greensburg, PA; her MA from the University of Notre Dame and her PhD from Georgia State University, Atlanta. She applied her education as she dedicated her ministry both in secondary and higher education in several institutions across the States and in six dioceses.
In the Youngstown Diocese she taught briefly at St. Brendan, Youngstown and for ten years at Canton Central Catholic High School.
While in the Cleveland Diocese she taught at Magnificat High School, Rocky River and later served on the Leadership Team of the Sisters of the Humility of Mary at the HM Ministry Center.
For 13 years she served in the Archdiocese of Atlanta at St. Pius X High School, Atlanta as a teacher and media specialist. While pursuing her PhD in Curriculum and Instruction, she was an instructor in the Graduate School of Education at Georgia State University in Atlanta.
In the Diocese of South Bend, Indiana she was an assistant professor in communication arts at the University of Notre Dame during ten summers.
Sr. Jeannette served in the Spokane Diocese from 1988-2002 as an associate professor of teacher education and doctoral studies in education at Gonzaga University and as an adjunct professor from 2002-12 when she directed students in their doctoral dissertations.
In the Pittsburgh Diocese she served as assistant principal and teacher at Villa Maria High School, Villa Maria, PA and as a research assistant and post-doctoral fellow at the University of Pittsburgh. After leaving Spokane she resided in New Wilmington, PA where she served in the Ministry of Prayer and worked on special projects for the HM Congregation at nearby Villa Maria. After retiring to Villa Maria Community Center in 2018, she joined with her sisters in community in the Ministry of Prayer until her death.
Due to the current pandemic, her burial has taken place in the Sisters' Cemetery at Villa Maria.  A Memorial Mass will be celebrated at a later date.
She is survived by her sisters in the HM Community; her sister, Bernadette Nader Lazo, Morgan Hill, California; her brothers, Sheb Abi-Nader, Virginia Beach, Virginia, Frank Abi-Nader, Fair Oaks, California, and Boutros (Bud) Abi-Nader, Orangevale, California; and many loving nieces and nephews and their families
She was preceded in death by her parents, Boutros and Mary (Azizzy) Nader, and a brother, Richard Nader.
Memorial contributions may be sent to
Sisters of the Humility of Mary
Development Office
PO Box 534
Villa Maria PA 16155