In Memoriam-Sister Rose Mary Schmidt
Sister Rose Mary Schmidt, H.M., formerly Sr. Rosalie, died Wednesday, April 7, 2021 at St. Elizabeth Youngstown Hospital.
Date of Birth: January 16, 1932 │ Age: 89
Place of Birth: Massillon, Ohio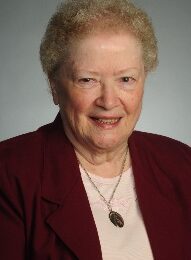 Sister Rose Mary Schmidt shared her many gifts and talents in the ministries of education, hospitality, pastoral care and administration.
In the Cleveland Diocese she served as principal at St. James, Lakewood.
She taught at St. Patrick, Hubbard and was principal at St. Louis, Louisville and St. Pius X, Warren all in the Youngstown Diocese.
Her 30 years ministering in the Pittsburgh diocese included teaching and serving as principal at St. Agatha and later Ellwood City Catholic Schools, Ellwood City. Sr. Rose Mary ministered at Villa Maria Community Center where she was director of hospitality and later administrative coordinator at Villa Maria Retreat Center. She served as assistant administrator of VMCC and director of Sister Services prior to becoming a volunteer member of the Pastoral Team where she was serving at the time of her death. Sr. Rose Mary also participated in the HM Prayer Ministry. She was celebrating her 70thanniversary as a Sister of the Humility of Mary.
Her services and burial will be private since Villa Maria Community Center continues to be closed due to the pandemic. A memorial Mass will be celebrated at a later date.
She is survived by her sisters in the HM Community; her brother, Raymond Schmidt; her sister, Vivian Gresser; and many nieces and nephews, grand and great grandnieces and nephews. She was preceded in death by her parents, Frank J. and Florence (Heck) Schmidt; her brothers, Floyd "Bud" Schmidt, Rev. John W. Schmidt, and Francis "Frank" Schmidt; and her sisters, Rita Wagner and Shirley Schmidt.
Memorial contributions may be sent to
Sisters of the Humility of Mary
Development Office
PO Box 534
Villa Maria PA 16155