In Memoriam-Sister Dolores Bourquin
Sister Dolores Bourquin, H.M., formerly Sr. Peter Fourier, died Monday, May 31, 2021 at Villa Maria Community Center.
Date of Birth: April 5, 1932 │ Age: 89
Place of Birth: Canton, Ohio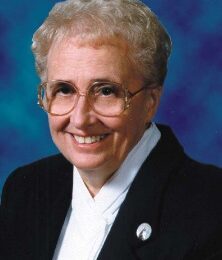 Sister Dolores Bourquin was a dedicated educator who served in schools and parish religious education positions for 51 years in the Cleveland, Pittsburgh and Youngstown dioceses. In the Cleveland diocese she taught at St. James, Lakewood and was pupil personnel director at St. Raphael, Bay Village and DRE and pastoral minister at Our Lady of Victory, Tallmadge prior to serving as a certified school counselor at Villa Montessori Center, Cleveland. In the Youngstown diocese she taught at St. Joseph, Massillon and was a teacher and later DRE at St. Patrick, Hubbard. In addition to teaching at Our Lady of Grace, Pittsburgh [Scott Twp] she also served as co-director of the Humility of Mary Associates and was a volunteer at Villa Maria Community Center. At the time of her death she was celebrating her 70thanniversary as a Sister of the Humility of Mary.
Her services and burial will be private since Villa Maria Community Center continues to be closed due to the pandemic. A memorial Mass will be celebrated at a later date.
She is survived by her sisters in the HM Community; her sister, Martha "Marti" Howard; her brother, Paul Bourquin; and nieces and nephews and their families. She was preceded in death by her parents, George and Marcella (Moledar) Bourquin, and her sisters Doris Fabian (her twin) and Therese Strabley.
Memorial contributions may be sent to
Sisters of the Humility of Mary
Development Office
PO Box 534
Villa Maria PA 16155