In Memoriam-Sister Mary Hoover
Sister Mary Hoover, H.M., formerly Sr. M. Carlanne, died Tuesday, May 18, 2021 at Villa Maria Community Center.
Date of Birth: August 14, 1941 │ Age: 79
Place of Birth: Youngstown, Ohio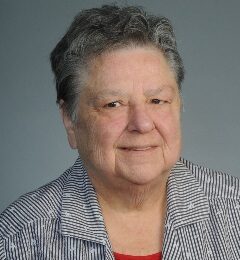 Sister Mary Hoover dedicated her ministry as a registered nurse to serving the physical, emotional and spiritual needs of those in her care.
After graduating from Sr. John College, Cleveland with her BSN in 1966 she served at St. Elizabeth Hospital, Youngstown. She then joined the pastoral care team at Cleveland Clinic Hospital, Cleveland where she served for 10 years.
Sr. Mary served her sisters in community for over 20 years as the community liaison to her sisters who were hospitalized primarily in Northeast Ohio.
More recently from 2003 to 2018 she ministered as a pastoral care volunteer at Humility House in Austintown.
In 2018 she returned to Villa Maria Community Center where she joined her sisters in the Ministry of Prayer. She celebrated her 60th jubilee in religious life in 2020.
Her services and burial will be private since Villa Maria Community Center continues to be closed due to the pandemic. A memorial Mass will be celebrated at a later date.
She is survived by her sisters in the HM Community; her sisters, Martha Hoover, Susan Blythe, and Jane Sandor; and her brothers, Fred, John, Ben, and Hal Hoover. She was preceded in death by her parents, Charles [Ben] and Beth Anna (Finney) Hoover.
Memorial contributions may be sent to
Sisters of the Humility of Mary
Development Office
PO Box 534
Villa Maria PA 16155