In Memoriam-Sister Rita Henley
Sister Rita Henley, H.M., formerly Sr. Mary St. Edna, SND, died Tuesday, August 31, 2021 at Villa Maria Community Center.
Date of Birth: August 6, 1931 │ Age: 90
Place of Birth: Barberton, Ohio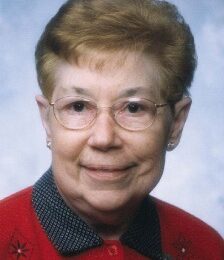 Sr. Rita dedicated herself for 52 years in active ministry as an elementary teacher, principal, counselor and pastoral minister.
Her teaching assignments in the Cleveland diocese included St. Mary, Elyria; St. Peter, North Ridgeville; and Gesu, University Heights. She served for 13 years as a pastoral minister then volunteered at Our Lady of Angels Parish, Cleveland.
In the Youngstown Diocese she taught at Ss. Philip and James, Canal Fulton and St. Paul, Salem.  Sr. Rita served as principal for seven years at St. Brendan School, Youngstown.
Sr. Rita also has been an alcohol counselor at the Alcohol Clinic in Youngstown and St. Vincent Charity Hospital, Cleveland. She returned to Villa Maria Community Center in 2018 where she joined with her sisters in the Ministry of Prayer until her death.
Since we are unable to gather together in Magnificat Chapel for a funeral Mass due to the pandemic, Sr. Rita will be buried in a private ceremony. A Memorial Mass will be celebrated at a later date.
She is survived by her sisters in the HM Community and her cousin, Coletta Stetz. She was preceded in death by her parents, Cornelius and Edna (Yeager) Henley, and her cousin, Dorothy Cox.
Memorial contributions may be sent to
Sisters of the Humility of Mary
Development Office
PO Box 534
Villa Maria PA 16155