In Memoriam-Sister Deborah Barker
Sister Deborah "Debbie" Barker, H.M., of Parma, Ohio, died Monday, September 6, 2021 at University Hospital in Cleveland.
Date of Birth: January 13, 1957 │ Age: 64
Place of Birth: Akron, Ohio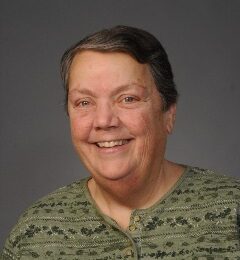 Sr. Debbie ministered as a dedicated elementary teacher for 20 years loving the little ones in her care with all her heart. She was a liver transplant recipient through the organ transplant program of LifeBanc, Cleveland.
In the Cleveland Diocese, she served as a teacher at Ss. Philip & James, Cleveland; St. James, Lakewood; Ascension, Cleveland; Academy of St. Bartholomew, Middleburg Heights; St. Richard, North Olmsted; and ABLE – ESL program. She volunteered with LifeBanc in Cleveland, and was a staff member at Heartbeats, Rocky River. Sr. Debbie also tutored at St. Columbkille School and Holy Family School in Parma. In the Youngstown Diocese, she taught at St. Patrick, Kent. Sr. Debbie most recently joined her sisters in the HM Ministry of Prayer, where she served until her death.
She is survived by her sisters in the Humility of Mary Congregation; her brothers, Michael and Steven Barker; and her sisters, Kathleen Kowalczyk, Coleen Barker-Williamson, Maureen Shreves, and Nancy Barker.
She was preceded in death by her parents, Robert E. and Sheila (Finan) Barker, and her sisters, Cynthia Knicely and Susan Jaskowick.
Memorial contributions may be sent to
Sisters of the Humility of Mary
Development Office
PO Box 534
Villa Maria PA 16155