In Memoriam-Sister Marie Bohn
Sister Marie Bohn, H.M., formerly Sister Mary Claude, died Wednesday, September 8, 2021 at Villa Maria Community Center.
Date of Birth: October 9, 1929 │ Age: 91
Place of Birth: Cleveland, Ohio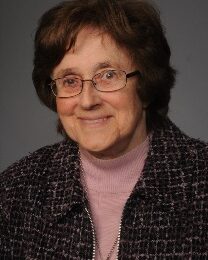 Sr. Marie generously dedicated herself in active ministry for 54 years as an educator, pastoral minister, campus minister and spiritual director.
In the Cleveland diocese she taught at St. Raphael, Bay Village and St. James, Lakewood. She served as a pastoral minister at St. Henry, Cleveland and St. Monica, Garfield Heights and was campus minister at Cuyahoga Community College, Cleveland. She provided free-lance retreat work and spiritual direction for 19 years from an office at Sr. Hilary Church, Fairlawn.
In the Youngstown diocese she taught at St. John the Baptist, Canton; St. Paul, Salem; and St. Edward Jr. High, Youngstown. She also served as principal and teacher at St. Joseph, Ashtabula.
Her ministry on college campuses, in retreat work and offering spiritual direction included Purdue University, West Lafayette, Indiana; University of Michigan, Gabriel Richard Center, Dearborn, Michigan; St. Francis Center and the Christian Family Center in Cincinnati.
In 2017 she returned to Villa Maria Community Center, Villa Maria, Pennsylvania where she joined her sisters in the ministry of prayer until her death.
She is survived by her sisters in the Humility of Mary Congregation, three nieces, one nephew, and their families.
She was preceded in death by her parents, Carl and Margaret (nee Pischulla) Bohn; her sister, Joan Kramer, and her brother, Paul T. Bohn.
Services and burial will be private as Villa Maria Community Center is still closed to visitors. A Memorial Mass will be celebrated at a later date.
Memorial contributions may be sent to
Sisters of the Humility of Mary
Development Office
PO Box 534
Villa Maria PA 16155