In Memoriam-Sister Susan Gauntner
Sister Susan Gauntner, H.M., formerly Sister Mary Blaise, died Wednesday, October 27, 2021 at Villa Maria Community Center.
Date of Birth: January 29, 1938 │ Age: 83
Place of Birth: Cleveland, Ohio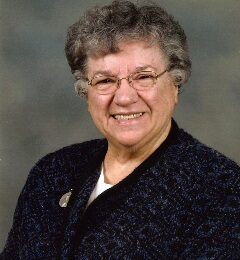 A true model of the humility of Mary, Sister Susan Gauntner lead a life of exemplary humility and practical service. She ministered as a housekeeper and housekeeping supervisor at St. Elizabeth Hospital, Youngstown and was a volunteer at St. Luke Parish, Boardman. She served at Villa Maria High School as a housemother and later as Director of Housekeeping. She was the Director of Environmental Services at Villa Maria Community Center, Villa Maria PA for 23 years. One of Sister Susan's many labors of love was in the colorful flower beds that she planted and maintained at Villa Maria. In 2019 she joined her sisters in the Ministry of Prayer at Villa Maria which she shared until her death.
She is survived by her sisters in the Humility of Mary Congregation; her sister, Pat Potopsky; her brothers, Robert and Richard Gauntner; and many nieces and nephews and their families.
She was preceded in death by her parents, Russel J. and Susan (Graham) Gauntner, and her brother, Russell Gauntner.
Memorial contributions may be sent to
Sisters of the Humility of Mary
Development Office
PO Box 534
Villa Maria PA 16155