In Memoriam-Sister Alma Siffrin
Sister Alma Siffrin, H.M., formerly Sister Anna Rita, died Friday, December 10, 2021 at Villa Maria Community Center.
Date of Birth: May 22, 1925 │ Age: 96
Place of Birth: Massillon, Ohio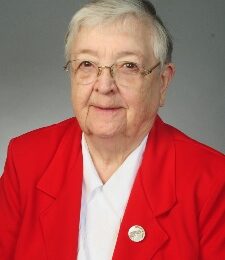 Sister Alma Siffrin's life of dedication and faithfulness was filled with great and small things, many unseen, all done with great love. She served in the ministry of education as a teacher and principal for 36 years and later ministered as a coordinator and receptionist.
In the Cleveland Diocese she taught at Annunciation and St. Sebastian, Akron and St. Raphael, Bay Village. For 12 years she served as admissions coordinator and receptionist at the Village of St. Edward, Akron.
In the Youngstown Diocese she taught at St. Anthony, Canton and was principal at St. Joseph, Ashtabula, St. Paul, Canton and St. Pius X, Warren. She also served on the pastoral team at St. Joseph Hospice, Louisville.
In the Pittsburgh Diocese she taught at Our Lady of Grace, Scott Twp, Pittsburgh and was the founding principal and a teacher at St. Agatha, Ellwood City. Sr. Alma served her retired sisters in community as coordinator at Villa Maria Community Center. In later years she joined them in the HM Prayer Ministry and in the Ministry of Faith-filled Presence until her death. In 2019 she joyfully celebrated her 75thanniversary as a Humility of Mary sister.
She is survived by her sisters in the Humility of Mary Congregation; her sister, Patricia Raymondi; her brother, Paul H. Siffrin; and many nieces and nephews, including Rev. Msgr. Robert J. Siffrin.
She was preceded in death by her parents, Robert and Catherine (Zoeller) Siffrin; her sisters, Kathryn Lineham and Rita Marks; and her brother, Robert J. Siffrin.
Memorial contributions may be sent to
Sisters of the Humility of Mary
Development Office
PO Box 534
Villa Maria PA 16155