In Memoriam-Sister Marie Veres
Sister Marie Veres, H.M., formerly Sister M. Mercedes, died Thursday, December 23, 2021 at Villa Maria Community Center.
Date of Birth: September 10, 1938 │ Age: 83
Place of Birth: Medina, Ohio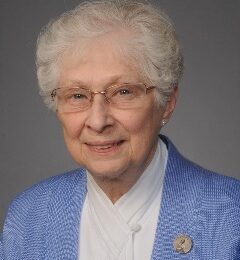 Gentleness and kindness personified Sister Marie Veres who ministered in various schools for 48 years as a teacher and principal. She had a special place in her heart for educating children, especially the poor. In 1995, after a year of research and study, Sr. Marie and Sr. Ann Solma established Villa Montessori Center in the Slavic Village neighborhood of Cleveland. She served in multiple roles there as teacher, principal and president for 20 years. Sr. Marie was a member of the Humility of Mary initial formation staff for eight years while teaching at St. James, Lakewood. In 2017 she retired to Villa Maria Community Center where she joined her sisters in the Ministry of Prayer until her death.
She is survived by her sisters in the Humility of Mary Congregation; her sisters, Loretta Veres Alden, Joan Francis, and Donna Frank; and her brothers, Frank, John, and Donald Veres.
She was preceded in death by her parents, John J. and Theresa (Sikorsky) Veres.
A Memorial Mass will be celebrated at a later date as Villa Maria Community Center remains closed to visitors.
Memorial contributions may be sent to
Sisters of the Humility of Mary
Development Office
PO Box 534
Villa Maria PA 16155