Catholic Sisters Week-Sister Spotlight-Sr. Mary Catherine Blooming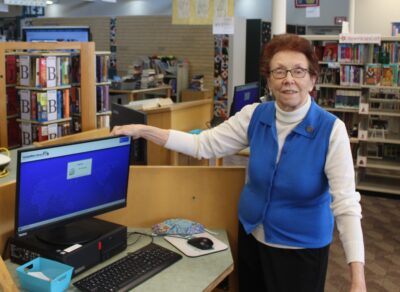 A chance encounter has led Sr. Mary Catherine Blooming to walk with a family through their homelessness for the past three years. But it wasn't a chance encounter she says—God put her there at the right time to help.
"I met them when I was emptying trash after a summer enrichment program at my school," said Sr. Mary Catherine of their first meeting. "They had just lost the housing they had been provided during a renovation job and had all their belongings in a plastic bag . They asked me if I could drive them to a bus stop that would lead to the downtown area where they could get help."
After that first meeting, Sr. Mary Catherine went on to help them get assistance and find an apartment. She has journeyed with them through the struggles and setbacks of getting back on their feet since that meeting in 2019, and she has learned a lot about navigating government services along the way. This has led her to seek other ways to help those in need.
Since her retirement from teaching, Sr. Mary Catherine volunteers with the St. Vincent de Paul Society in Pittsburgh, where she helps assess clients to receive rent and utility assistance. She is also training to volunteer at a local women's shelter. Once she completes the required hours, she will be able to work on-site. For now, she collects supplies to distribute to women in the shelter.
"My faith has become more practical—how God will work a small miracle every other day if you need it," Sr. Mary Catherine said of what she's learned through this work. "If you're operating in the middle class where you don't need anything, you're not going to notice it as much. But when there's nothing there and God provides something, then you blink and it just happens. You say, oh, okay, that's how it works. I've learned that I'm a person who is not afraid to approach other people, and that there's a solution to every problem if you ask for help. The HM spirit is the spirit of looking for people that are on the margins and helping them. Maybe someday you will be the person standing by a dumpster at the right time to make a difference to someone in need."
#catholicsistersweek #catholicsistersweek2022 #sistersofhm #villamariapa