In Memoriam-Sister Dolores Strah
Sister Dolores Strah, H.M., formerly Sister Mary Christina Rose, SND, died Saturday, April 23, 2022 at Main Street Care Center in Avon Lake, Ohio.
Date of Birth: July 31, 1933 │ Age: 88
Place of Birth: Euclid, Ohio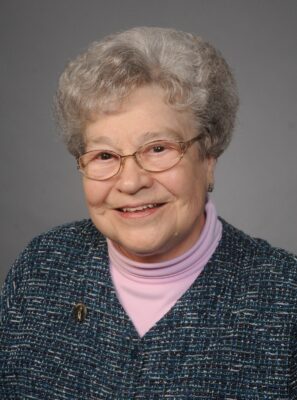 Sister Dolores Strah dedicated herself for 63 years in active ministry as a convent cook, elementary teacher, administrative secretary and receptionist in the Cleveland and Youngstown dioceses. She especially loved the primary grade children whom she taught and was known for her talents and generosity in providing cookies and other bakery for groups and meetings.
In the Cleveland diocese she ministered at St. Martha, Akron; St. Mary, Avon; St. Benedict, St. Paschal Baylon, St. Stephen and Villa Montessori Center, Cleveland; St. Judy, Elyria; St. James, Lakewood; St. Albert the Great, North Royalton; HM Ministry Center and Heartbeats, Rocky River; and St. Gregory, South Euclid.
In the Youngstown diocese she served at Maryhill and St. Peter, Canton; St. Aloysius, East Liverpool; and St. Pius X, Warren.
She is survived by her sisters in the Humility of Mary Congregation; her sisters, Sandra Fouts, Christine Hurley, and Lynne Menuez; and her brother, Kenneth Strah.
She was preceded in death by her parents, Anthony J. and Christine (Hren) Strah; her sisters, Rose Misic, Evelyn Strah and Claudia DeCoursey; and her brother, Anthony Strah.
A Memorial Mass will be celebrated at a later date as Villa Maria Community Center remains closed to visitors.
Memorial contributions may be sent to
Sisters of the Humility of Mary
Development Office
PO Box 534
Villa Maria PA 16155