In Memoriam-Sr. Mary Kathryn Pillot
Sister Mary Kathryn Pillot, H.M., formerly Sister Philip Neri, died Saturday, September 24, 2022 at Villa Maria Community Center.
Date of Birth: June 3, 1931│ Age: 91
Place of Birth: Louisville, Ohio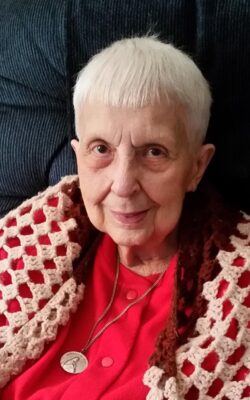 Sister Mary Kathryn Pillot dedicated herself in ministry as a registered nurse, pastoral minister and public health and home health nurse in the course of 34 years in the Cleveland and Youngstown dioceses. She also served for two years providing nursing services at Khanh Hoa Provincial Hospital, Nha Trang, Vietnam during the war.
She served in the Cleveland diocese at St. Joseph Hospital, Lorain; Hough-Norwood Family Care Center, Cleveland; Warrensville House of Correction and Visiting Nurse Assn., Cleveland; and St. Bartholomew, Middleburg, Heights.
In the Youngstown diocese she ministered at St. John/St, Peter, Visiting Care, Inc; and the Hospice of Stark County, all in Canton; St. Louis, Louisville; and St. Joseph Riverside Hospital, Warren. For many years she used her nursing background to assist her HM Sisters who were hospitalized.
In 2013 she retired to Villa Maria Community Center where she participated in the Prayer Shawl ministry making afghans for the Dorothy Day House in Youngstown. She served in the Ministry of Prayer until her death.
She is survived by her sisters in the Humility of Mary Congregation and her loving nieces and nephews and their families.
She was preceded in death by her parents, Charles and Laura (Malcuit) Pillot; her sisters, Lillian Stonebrook, Carolyn McCauley, and Bernice Kendrick; and her brother, Bernard Pillot.
Memorial contributions may be sent to
Sisters of the Humility of Mary
Development Office
PO Box 534
Villa Maria PA 16155