In Memoriam-Sr. Mildred Ruffing
Sister Mildred Ruffing, H.M., formerly Sister M. Jacinta, died Sunday, September 11, 2022 at Assumption Village, North Lima, Ohio.
Date of Birth: January 23, 1932 │ Age: 90
Place of Birth: Norwalk, Ohio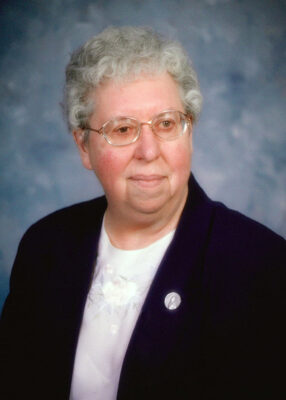 Sister Mildred Ruffing planted many a garden as a teacher and religious educator during her 64 years of active ministry including 29 years at St. Luke Parish, Boardman.
In the Cleveland Diocese she taught at the Rose-Mary Home, Euclid; St. Cecilia, Cleveland; and St. Mary, Painesville.
She taught at St. Stephen, Niles; St. Paul, Salem; and St. Edward Elementary, Youngstown. In addition to St. Luke, she also served as director of religious education at Our Lady of Peace, Canton; St. Robert Bellarmine, Cortland  and at St. Edward Elementary, Youngstown as religion coordinator in the Youngstown Diocese.
In the Pittsburgh Diocese she taught at Our Lady of Grace, Pittsburgh and joined her sisters in the HM Ministry of Prayer at Villa Maria Community Center. Sr. Mildred was an avid gardener who contributed to the beauty of many a landscape with her flower and vegetable gardens.
She is survived by her sisters in the Humility of Mary Congregation; her sister, Dorothy Wagener; and her brothers, Rev. Norman Ruffing and Norbert Ruffing.
She was preceded in death by her parents, Aloysius and Ann (Wise) Ruffing; her sisters, Mary Rekart and Florence Ruffing; and her brothers, Robert Ruffing and Rev. Joseph Ruffing.
Memorial contributions may be sent to
Sisters of the Humility of Mary
Development Office
PO Box 534
Villa Maria PA 16155