In Memoriam-Sr. Monica Boles
Sister Monica Boles, H.M., formerly Sister Mary Austin, died Saturday, December 17, 2022 at Villa Maria Community Center.
Date of Birth: July 29, 1930│ Age: 92
Place of Birth: Akron, Ohio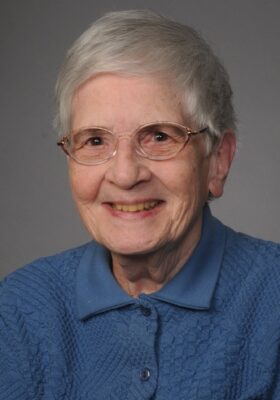 Sister Monica ministered for 48 years in classrooms in Akron, Ashtabula, Canton, and Cleveland. She served as a pastoral minister at White Pond Villa, Akron and St. Colette, Brunswick and was a computer instructor in the Business Technology Division at the University of Akron. Over the years she volunteered as an ombudsman for nursing homes in the Akron area. Coming from a musical family she played clarinet and sax with the Akron-based Moonlight Serenaders for over 10 years until she was well into her 80s. She retired to Villa Maria Community Center in 2016 where she joined her Humility of Mary sisters in the ministry of prayer and of faith-filled presence until her death.
She is survived by her sisters in the Humility of Mary Congregation and her loving nieces and nephews and their families.
She was preceded in death by her parents, Patrick and Mary (Eisenzimmer) Boles; and her brothers, Edward, Russell, and John (Jack) Boles.
Arrangements at Villa Maria Chapel, Villa Maria, Pennsylvania:
Rite of Return and Calling Hours: Thursday, December 22, 2022 from 9:45 a.m. prior to the funeral liturgy
Mass of Christian Burial: Thursday, December 22, 2022 at 10:30 a.m. Mass will be livestreamed. The link will be posted the day of the funeral.
Prayer of Remembrance: [via Zoom] Wednesday, January 4, 2023 at 7:00 p.m.
Memorial contributions may be sent to
Sisters of the Humility of Mary
Development Office
PO Box 534
Villa Maria PA 16155