In Memoriam-Sr. Dorothy Zwick
Sister Dorothy Zwick, H.M., formerly Sister Mary Zita, of Hubbard, Ohio, died Tuesday, May 9, 2023 at Maplecrest Skilled Nursing and Rehabilitation Care in Struthers, Ohio.
Date of Birth: September 16, 1927│ Age: 95
Place of Birth: Canton, Ohio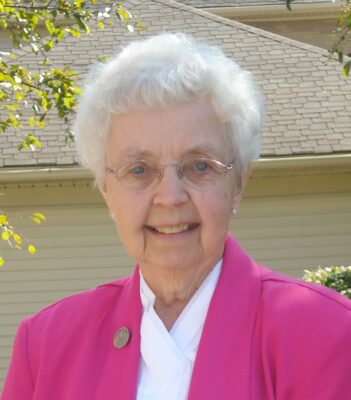 Sr. Dorothy dedicated her decades of faith-filled service to ministering in healthcare, administration, and congregational leadership. She earned her diploma from the St. Elizabeth Hospital School of Nursing and worked as a nurse at the Rose-Mary Center in Euclid and as a nursing supervisor at St. Joseph Hospital in Lorain before returning to the Youngstown area.
Sr. Dorothy served as Director of St. Elizabeth Hospital School of Nursing from 1961-1989 and helped train generations of nurses in her time there. She generously served three terms in HM Congregational Leadership as General Secretary and served as Administrator of Villa Maria Community Center from 1989-2002. During the 1980s, Sr. Dorothy was part of the Constitutions writing committee.
She began a rewarding ministry in pastoral ministry at St. Patrick Parish in Youngstown in 2002, where she served until 2020. Sr. Dorothy joined her sisters as part of the HM prayer ministry until her death.
She is survived by her sisters in the Humility of Mary Congregation and nieces and nephews and their families. She was preceded in death by her parents, Roman and Clara (Donant) Zwick and her sisters, Eulalia Heck, Zita Zwick and Ruth C. Wirtz.
Memorial contributions may be sent to the Sisters of the Humility of Mary, Development Office, PO Box 534, Villa Maria PA 16155.