Corporate Witness Statement on Central America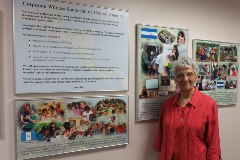 We Sisters of the Humility of Mary stand in solidarity with the people of Central America and in commitment to the mission of Jesus who "came that people may have life and have it more abundantly" (John 10:10).
We support the right of the people of Central America to self-determination. We oppose all military, political or economic intervention which is incongruent with the principle of self-determination.
We call upon our government to:
Stop the flow of military aid to the region
Stop the use of Central American forces to achieve U.S. policy objectives
Resolve matters of U.S. interest through negotiations rather than force
Secure the right of asylum in the United States for Central American refugees fleeing the violence and repression in their homelands
We call upon ourselves and involved citizen groups to influence the business sector involved in Central America to develop just economic structures compatible with Central American countries' right to self-determination.
We invite people of good will to join with us in supporting a just foreign policy for Central America which incorporates the same human rights provided to U.S. Citizens.
Corporate Witness Statement, Sisters of the Humility of Mary, Villa Maria Community Center, Villa Maria, Pennsylvania, June 1988