Leadership
The Sisters of the Humility of Mary elected new leadership for a term of four years during their Chapter of Elections held in May. The transfer of leadership took place Aug. 7, 2021 during private ceremonies at Villa Maria Community Center's Magnificat Chapel as part of August Community Days.
Pictured below [from left to right] is the new leadership team: councilors Sr. Margaret Marszal, Sr. Annette Solma, Sr. Carol Anne Smith, pastoral leader, and Anne Victory, councilor.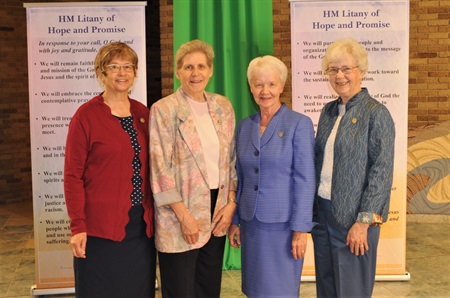 Sr. Carol Anne Smith, Pastoral Leader
Sister Carol Anne Smith's ministry began in education as a teacher, assistant principal, and principal at Magnificat High School, Rocky River, where she later served as president. She is the former Superintendent of the Diocese of Cleveland Catholic Schools and the Bishop's Secretary for Education and Catechesis. She also served as Executive Director of the Cleveland Foundation as as an adjunct consultant for ACE (Alliance for Catholic Education) at the University of Notre Dame. Concurrently for the past over 30 years, she has served in Catholic healthcare governance including now as a member of both the Bon Secours Mercy Health System Board and Bon Secours Mercy Ministries Board. She has served on numerous education and healthcare boards. Sr. Carol Anne has previously served on the HM Leadership Team for three previous terms.
Sr. Margaret Marszal
Sister Margaret Marszal began her ministry in education at Villa Maria High School and taught at Magnificat High School, Rocky River, Ohio and St. Thomas Aquinas High School, Louisville, Ohio. She has served as a pastoral associate, spiritual director, and a retreat center director/program coordinator in Ohio and Pennsylvania. She served as co-chair of the Chapter Planning Committee for the HM Congregation in 2017. Sr. Margaret has served on the HM Leadership Team for one term, most recently as general secretary.
Sr. Annette Solma
Sister Annette (Ann) Solma's ministry in education began at Villa Maria High School where she served as a teacher, coach, and athletic director; she also taught at Central Catholic High School, Canton, Ohio; and St. Mary Elementary School, Marietta, Ohio. In 1995, Sr. Ann and Sr. Marie Veres established Villa Montessori Center, which focused on early childhood education, in Cleveland's Slavic Village neighborhood. She served at Villa Montessori Center for the next 20 years as a teacher, administrative officer, and business manager. Sr. Ann partnered with and supported a local education initiative in Slavic Village, P-16 Education Collaborative, after Villa Montessori Center closed in 2015. She has served on several boards of directors and currently serves as an advocate for housing stability with Slavic Village Development.
Sr. Anne Victory
Sister Anne Victory began her ministry in healthcare as a registered nurse at St. Joseph Hospital in Lorain. In her 32 years of ministry at St. Joseph, Sr. Anne served as an instructor at their practical nursing school and in several administrative roles. From 2001 to 2005, she served the HM Community as the director of ministry and community life development. Sr. Anne served two terms on the HM Leadership Team from 2001 to 2009. After completing her second term in community leadership, she joined the newly founded Collaborative to End Human Trafficking as director of education, where she served until July 2021. In 2019, she received the Bishop Amadeus Rappe Award from Ursuline College, Cleveland for her work with the Collaborative.