Employment
Join Our Team!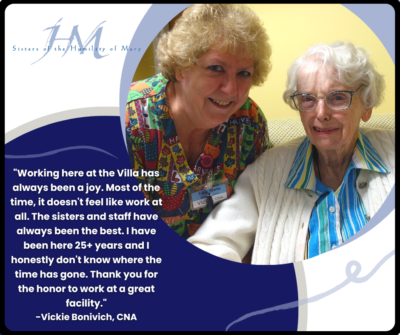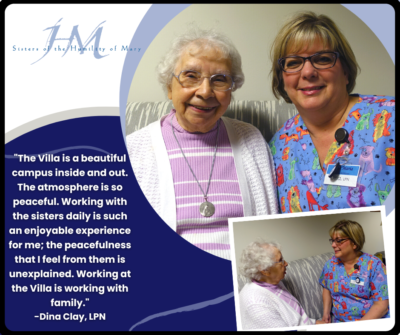 To apply for available positions below, e-mail your resume and a completed application (click on PDF below) to humanresources@humilityofmary.org or mail to: Human Resources, PO Box 711, Villa Maria, PA 16155
Compensation and benefits packages may vary by job type, full-time or part-time status and SHM organization, but all include these basic components:
Medical and Dental Insurance
Short-term and Long-term Disability Insurance
Life Insurance
Retirement Savings Plan
Paid Time Off
Paid Holidays, Bereavement and Jury Duty
Eligible for Diocese of Youngstown Federal Credit Union
Sisters of the Humility of Mary Employees' Core Values
H.E.A.R.T
HOSPITALITY: Approaches sisters, apartment residents, guests and employees with an attitude of welcome. Offers service with generosity and a sincere desire to be of assistance. Recognizes needs of individuals and takes the initiative in responding to them.
EXCELLENCE: Uses knowledge and expertise to provide quality service according to established timelines. Organizes work and functions in an accountable manner and offers suggestions for improvement. Demonstrates confidence and competence in fulfilling responsibilities.
APPRECIATION: Affirms others through a compassionate spirit and upholding the dignity of each. Cares for the environment by efficiently utilizing our resources, property, supplies, and equipment.
RESPECT: Shows concern for individuals by patience and a friendly manner. Upholds a positive attitude. Maintains confidentiality for themselves and others.
TEAMWORK: Acts as a team player by reporting for work as scheduled and is dependable and flexible. Maintains open communication and works with others in a spirit of trust and collaboration. Uses good judgment to arrive at decisions that are in the best interest of all.