Sister Delrina Clarin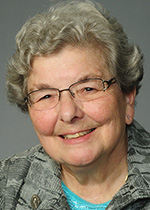 As a vowed member of the HM Community for the past 58 years, my question is not, "Why did I come?" but, "Why did I stay?"
I can still hear my friend repeating that question over and over again when she told me of her decision to leave the church because it was too painful for her to stay. How could I express to her that which is so profound and that which became clear to me as part of what we shared. Like Doubting Thomas, we had asked the questions together. We tore apart books on theology, Biblical exegesis and religion in culture. We made retreats and attended workshops in spirituality. With her family, we hiked the trails of the metroparks and experienced God's beauty in the changing of the seasons. We would stand in awe at her children's bedsides and be overwhelmed at the innocence of a sleeping child. We saw the Green mountains in Vermont and heard the roar of the waves against the Outer Banks as we sat in silence together, engulfed by the presence of our Creator. And we would return, each to our own homes, to face the commonness of everyday living, to the daily annoyances of other people's idiosyncrasies, ours included.
Her children grew up and we grew old. The changes in the church and in my HM Community evolved exponentially. My friend is no longer a Catholic and I am still an HM. She has since celebrated her 50th wedding anniversary as I celebrate each July 17th, the anniversary of my vows. Why did I stay? Why did we remain faithful each to our commitments? It certainly wasn't her husband's dirty socks or the numerous community meetings I have had to endure. Why did I enter and stay in the HM Community for 58 years? Because always deep down inside of my very being, there has been a hungering, a knowing love affair with this God of ours. It is so much part of my being that to deny this would be to deny the person I am.
Why I stay is a gift. My HM Community is God's gift to me. It is within this community that I can sense the mysteries of my life. I look at sisters, associates, staff members, volunteers and friends. I see women, common ordinary women, and in them I experience Eucharist: my hunger is fed, my thirst is quenched and the road I travel has companions.
I experience a community struggling with the questions of sinfulness and brokenness in today's world and I am immersed in the daily dying and rising of Christ. I am reminded of the question posed at the empty tomb, "Who are you looking for?" With Mary and with my HM sisters, I now know the answer I can only reply, "My god has done great things to me." My god has given me the gift of church and of my community. I stay because of the people who I have come in contact with in ministry. I stay because God has gifted me with my call to religious life.