Sister Gay Rowzie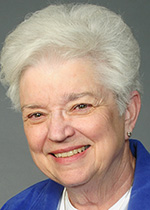 Our good and gracious God certainly has a grand sense of humor. Who would have thought God would call me, a middle-aged southern, to minister in northeast Ohio as a Sister of the Humility of Mary. I am a native of Louisiana, where I received my undergraduate degree in elementary and special education, married my college sweetheart and began my family. I have been blessed with two wonderful children. Trey is an independent Baptist missionary serving in Kyoto, Japan. Michelle lives in South Carolina and is an announcer on a Christian radio station. I have been divorced for many years and understand that he is currently an Anglican Dominican friar, who has been ordained a priest.
In the mid-70s, we moved to South Carolina, where I completed my master's and doctorate in educational research and measurement. I taught at the University of South Carolina and had a lucrative consulting practice. I was very involved in my local parish and in the diocese. At the same time I was feeling a call, a different call. This call was inviting me to a deeper commitment of my life. I felt that I was being called to the life of a vowed religious. After a year in discernment, the answer was clear but not exactly what I had expected. The answer was, "Not now!"
A week later I received a call from the Bishop's office asking if I would submit my name for the position of secretary of education and evangelization and superintendent of catholic schools. It seemed that the Holy Spirit was leading me in another direction. After prayerful consideration, I joined the Bishop's staff and enjoyed five growth-filled years in diocesan ministry.
During that time I made a new friend, who was also on the Bishop's staff. She was from Ohio and was a Sister of the Humility of Mary. We collaborated in ministry, shared prayer and built community together. It was a wonderful opportunity to journey together in faith and for me to learn more about the life of a vowed religious. After five years, the call was, "Now!"
In 2000, I left South Carolina and headed north to enter the novitiate. During my formation years, I took classes at a local seminary, ministered to women in prison, accompanied the elderly through a Catholic Charities program and served as mission director for Humility of Mary Health Partners. In November 2005, after a year of candidacy, two years of novitiate, three years in temporary vows, an extended retreat in Louisiana during Hurricane Katrina and a pilgrimage to our community's roots in France, I professed perpetual vows as a Sister of the Humility of Mary
….and God is laughing out loud!