Sister Madeline Muller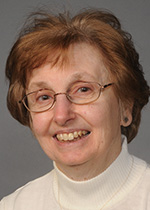 Women religious were no stranger to me. My great-aunt was a Carmelite nun. I was taught by the Vincentians at Saint Rita Elementary School and the Adrian Dominicans at Hoban-Dominican High School.
Toward the end of my senior year, I spoke with one of the sisters about religious life. She suggested I go to college first, so I enrolled at John Carroll University as one of the first coeds. After my evening job at the John Carroll switchboard, some of the guys would meet me and we would go to the hamburger place across the street.
I experienced three life-changing events during my junior year in Rome. The first one occurred during a theology class when the professor was discussing Romans 8: 22-23 and relating this passage to Teilhard de Chardin's philosophy. "We know the whole creation has been groaning in labor pains until now; and not only the creation, but we ourselves, who are the first fruits of the Spirit, groan inwardly while we wait for adoption, the redemption of our bodies." I began thinking I am not a passive observer of life but an active co-creator of the universe with God through the power of the Holy Spirit.
The second experience occurred during Christmas break when we had the opportunity to visit the Holy Land. After Mass, while I was walking back to our Jerusalem hotel, a woman with a small child came up to me begging for a bite of my orange. I was scared and hurried past her. I regret this now and wonder what became of them.
The third event that shaped me that year occurred in the northern part of Italy. Three of us drove to Milan to deliver a set of used encyclopedias to a poor parish school. After Mass, I was introduced to the pastor, who said "Ah Magdalena, are you the good one or the bad one?" That got me thinking about the remainder of my life. That year also made me disenchanted with the Western World's infatuation with consumerism.
After I returned to John Carroll University for my senior year, I spoke with Fr. Owens, SJ, about my future. He asked if I was still interested in the convent. I told him I forgot about it, and with the Second Vatican Council's (1962-65) emphasis on the laity, asked if religious life will survive. He said, "Guaranteed!" He called Sr. Bernadette Vetter and asked if there was a retreat at the Vila for those interested in religious life. A few weeks later, I boarded a bus filled with Lourdes and Magnificat High School girls.
While I was on that retreat, I realized I needed to seriously think and pray about this possibility. After a few months of meetings, prayer and discernment, I entered the HM Community on August 11, 1968.