Sister Margaret Mary Siegfried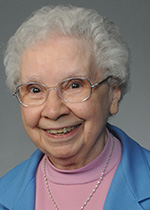 The Sisters of the Humility of Mary taught me for eight years of grade school at St. John the Baptist Roman Catholic School, and for four years of high school at Mt. Marie Academy, both in Canton, Ohio. They were my models and examples, especially Sister Anne Therese Stringer, my third and fourth grade teacher.
I believed I had a vocation to the religious life, but was not sure whether I should enter right away. The war was breaking out, and I thought perhaps I should help with the war effort through the WACS or WAVES. I talked it over with Father William Lawler during confession. He said if I felt like I had a religious vocation I should go right away.
Sister Mary Benedict (Marie Shea) asked her brother to take us to the Villa so I could talk to Sister Canice, the novice mistress. When I saw the Villa I just knew this was the place for me. I entered at Villa Maria on Sept. 8, 1942, the birthday of the Blessed Virgin Mary. I received the community's habit on July 17, 1943, and made final (perpetual) vows on July 17, 1948.