Sister Mary Kathryn Pillot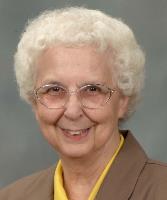 Their joyful spirit is what attracted me to the Sisters of the Humility of Mary. As de Chardin wrote, "Joy is the infallible sign of the presence of God."
Although I was privileged to know three other orders of Sisters, it was the HMs which drew me.
I experienced the joy of the Sisters teaching at my parish in St. Louis, Louisville, Ohio. Then, when I later attended Canton Central Catholic (Mt. Marie division), I again saw how happy those Sisters were. So it seemed God called me to join them after graduation from high school. I entered in January 1950 and have never regretted my decision.
After the death of my last two siblings in February and March 2013, I returned to the Villa to live once again. Although I greatly miss my two sisters, Carolyn and Lillian, I am so thankful to have so many loving Sisters here at the Villa along with everything I need.
God has indeed been good to me!