Sister Susanne Gill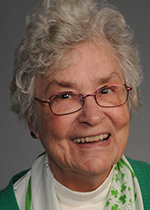 As a pre-schooler growing up with St. Paul's North Canton convent behind our home, I was fascinated by the Blue Nuns who taught school there. I often wandered over by the convent, and one day Sr. Vida saw me and befriended me. She taught me my first prayer, The Angel of God.
Later, during my school years, I loved all my HM sisters, including my favorite Sr. Mary Elizia Kelly, who taught me in 8th grade. She was dearly loved and kept in contact throughout my high school years at North Canton High School. She, together with my faith-filled wonderful parents, had much to do with my vocation as an HM sister. God's nudge was also felt.
I was blessed in my HM journey of 56 years with sister models, such as Sisters Camilla Witchner, Evangelist, Rosemary Murray, HM classmates, Susan Corrigan and Associate Darlene Morrison. These are a few of the many positive influences which helped to make this the best vocation ever.